Window Installation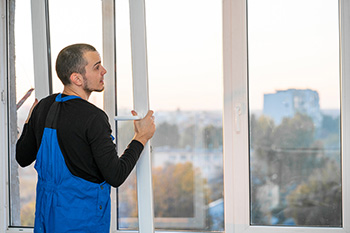 Most DIY homeowners can usually tackle the installation of a single replacement window but replacing every window in the home is a project best left to the professionals. Lifetime Aluminum in East Hanover, New Jersey, specializes in vinyl replacement windows and custom wood windows, for all types of openings.
We've built a reputation for skilled window installation and quality workmanship that ensures superior energy efficiency while enhancing your home's beauty and value. We offer a wide range of options in window style, insulation, color, and price to fit your needs and budget.
Window Installation Basics
Window replacement is a moderately large investment, so you want your installation completed correctly. Properly installed windows begin with the substructure that surrounds the window, attaching it to your home. Rotten or inferior wood must be replaced to provide a solid setting.
Our professional window installation team ensures your new windows are plumb, level, and aligned properly in relation to each other. We also apply trim around each window, which is properly joined and caulked around the perimeter to ensure insulation, stability, and aesthetic appeal. Without expert installation, you risk having leaky windows that drive up your energy costs and water entering your walls.
Window Installation Options
Compared to their predecessors, modern vinyl windows are drastically different, offering an amazing look coupled with exceptional energy efficiency. Our replacement window selection at Lifetime Aluminum includes a diverse array of custom wood window options that feature maintenance-free vinyl exteriors and prefinished real wood interiors. We have several window styles to choose from, including:
Cost Of Window Installation
Total window replacement is a relatively costly investment, but compared to other home improvement projects, it offers one of the best returns on investment. Replacing your old, drafty windows with new energy-efficient windows also saves on your heating and cooling bills, while adding value to your home.
When choosing replacement windows, high cost doesn't always equal superior performance. Higher priced windows are usually manufactured from more expensive materials, but that doesn't mean they'll do a better job of sealing out the effects of Mother Nature than a lower-priced alternative. There are plenty of affordable replacement window options for homeowners on a budget. Once you've chosen your windows, you can count on a skilled window installation at an affordable price from Lifetime Aluminum.
Window Installation Experts In East Hanover, NJ
Lifetime Aluminum is a local, second-generation family-owned/operated business that's been providing reliable window installations since 1956. Our quality products, reasonable prices, and unbeatable customer service have made us the first choice among homeowners in Morris County, including East Hanover, Chatham, Florham Park, Madison, Summit, and the surrounding areas.
Besides high-quality window replacements, we also install custom fiberglass and security doors that enhance safety, energy efficiency, and aesthetic appeal in your entryways. Visit our showroom and design center at 162 Mount Pleasant Avenue to view our spectacular selection of replacement windows and doors, or contact us at 973-887-1900 to learn more about our services or request a free, no-obligation in-home estimate today.