Three-Season Rooms in Morris County, New Jersey
Three-season rooms or porches provide a seamless transitional space between the outdoors and your home's interior. At Lifetime Aluminum, we can help you construct a three-season room that lets you enjoy the beauty of the outdoors while staying comfortable inside.
Why Is It Called A Three-Season Room?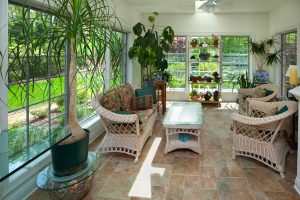 Since a three-reason room is traditionally not heated, its name is indicative of its purpose — it can be enjoyed during three seasons of the year: spring, summer, and fall.
Full Construction For Three-Season Rooms
Whether you want to build a new space from the ground up or convert an existing outdoor porch into a three-season room, you can benefit from Lifetime Aluminum's full construction services for these projects.
Benefits Of Three-Season Rooms
Besides allowing you and your family to comfortably enjoy the beauty of the outdoors, three-season rooms offer many benefits.
When you have a three-season porch built, there's no need for foundation excavations, plumbing or heating systems. These expenses often drive up the cost of new home construction.
It offers protection from insects and seasonal allergies during the summer months, so you can enjoy dinner or relax with a good book without being bothered by bugs or pollen.
If you have a hot tub or whirlpool, a three-season porch provides a great enclosure to give you privacy while you unwind in comfort.
This type of space can often add value to your home because a three-season room is seen as additional living area, and many homebuyers find them appealing.
Customizing Your Project With Windows
One of the most appealing features of a three-season room is the tall windows that let in sunshine or a cool breeze while you're spending time there. At Lifetime Aluminum, we carry a full selection of energy-efficient windows to choose from, so you can beautify your space and enclose it in as much natural light as possible.
Choose Your Three-Season Room's Appearance
At Lifetime Aluminum, we pride ourselves in tailoring each project to the desire, taste and budget of our customers. We provide free in-home consultations to help you decide what type of three-season room might work best for your space.
We try to ensure that the design of your new room coordinates well with the overall look and style of your home's interior and exterior so it blends in well with its surroundings.
Our design and construction experts can help you create a space that's useful, aesthetically pleasing and comfortable, so you can enjoy it with your family for years to come.
Select from options such as screened-in walls or tall glass windows, depending on your needs and tastes. Check out our photos below to see some examples of previous completed projects and get some ideas of what you might want to build.
Contact Lifetime Aluminum For Three-Season Room Construction
At Lifetime Aluminum, we've been in business for over 50 years as a local, family-owned company in East Hanover, New Jersey, and we take pride in providing our customers with quality home construction solutions for windows, doors, sunrooms and shower/bath enclosures.
If you're interested in installing a three-season room in your home, contact Lifetime Aluminum. Schedule a free in-home consultation to find out if you and your family can benefit from this valuable home addition. Call 973-887-1900 for an appointment or more information.