New Jersey Window Replacement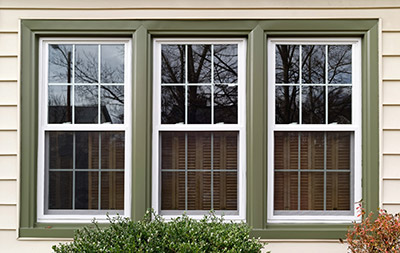 If you want a low-maintenance version of elegant, traditional windows, let our experienced Lifetime Aluminum staff help you discover the beauty of double-hung windows. We know that your home is your most valuable asset, and street views are important to the market value of your property. At the same time, we believe it's important to provide products that make your life simpler, not harder.
Double-Hung Windows
Our double-hung windows consist of an upper and a lower window sash, which both slide up and down vertically, in a shared casement. We recommend this window installation for homeowners who want a look of traditional elegance. The lower sash is located in front of the upper sash, and each features a solid pane of glass or is divided by built-in muntins for support and decorative value. Alternately, they might include a snap-in grid to give the fancy appearance of several panes that some homeowners love.
How Double-Hung Windows Work
Double-hung window sashes navigate along side jambs that allow each one to slide separately. Some have a full screen so you can use the top and bottom for ventilation, but others have a half-screen that you move into position with the sash you open. This versatility is a big advantage that our Lifetime Aluminum professionals highlight to those looking to maximize ventilation.
Double-Hung Window Replacement
Double-hung windows are our favorite choice for single-pane window replacements. Modern double-hung windows offer insulation to increase energy efficiency and tilt-in sashes that let you easily clean the window from inside the house. UV protection safeguards your eyes and skin as well as displayed photos and delicate fabrics sensitive to sun exposure. Let us help you schedule your window update so you can enjoy these benefits in your home.
Maintenance Benefits
When our Lifetime Aluminum technicians replace your older windows, you trade up to the following benefits:
Minimal maintenance thanks to the tilt-in feature
Advanced triple weather stripping seals for optimal energy efficiency
Polyurethane window frame insulation to ensure comfort and enhanced energy efficiency
Concave interior glazing bead for an elegant look
Recessed, pick-resistant locks
Extruded aluminum screen frame with aluminum-reinforced corners for worry-free performance
Contact Us
Call Lifetime Aluminum today at 973-887-1900973-887-1900 or contact us online for your window replacement needs so that you can take advantage of our lovely double-hung window designs.