Double-Hung Windows in Morris County, New Jersey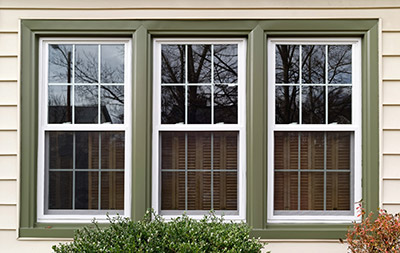 The staff at Lifetime Aluminum enthusiastically recommends double-hung windows to our customers throughout Morris County, New Jersey. These well-designed windows offer superior ventilation and easier cleaning for homeowners. Consider double-hung replacement windows when remodeling or updating your home. Discover how double-hung window installations with Lifetime Aluminum can increase the attractiveness, comfort, and value of your residence.
Double-Hung Windows
What exactly are double-hung windows? They are upper and lower windows that work together. Both glass windows slide up and down vertically within the window framework. The sashes, or frames that hold the window glass, are set one ahead of the other. Lifetime Aluminum double-hung windows feature the lower sash slightly in front of the upper sash. In addition to solid panes of glass, our double-hung windows can feature decorative, built-in muntins, or dividing strips. We can also use a grid that snaps onto the windowpane, allowing an easy and beautiful option to enhance this strong, secure, and practical window style. These design features allow the look of multiple smaller panes of glass, with the overall look depending on homeowner tastes, preferences, and the style of the home.
How Double-Hung Windows Work
The actual workings of Lifetime Aluminum double-hung windows are of practical benefit to homeowners. Both windows slide separately on side jambs or vertical frames that hold the windows in place. In this way, both the upper and lower portions of the window can be opened to allow ventilation from the outdoors. This is often considered an advantage for homeowners who are debating double-hung vs. single-hung windows. Homeowners can also choose what type of screens they want installed to help protect against insects. Some double-hung windows feature a half screen that can be pushed into place, while others provide full screens.
The flexibility to open both the upper and lower double-hung windows allows warm air to rise and leave the building when desired, through the upper window. Meanwhile, open lower windows can allow cooler air into the house. This can be of great benefit during the hot summer season, helping homeowners save on energy bills by creating an airflow that doesn't require running the air conditioning. Lifetime Aluminum double-hung windows also tilt in for easier access by the homeowner for cleaning and maintenance.
Double-Hung Window Replacement
When homeowners choose to replace single-pane windows with modern double-hung windows, they are upgrading interior and exterior design features, as well as providing better insulation and UV protection. Harmful sunrays are filtered for the health and safety of homeowners and their families. This also helps protect furnishings and artwork inside the house. Perhaps best of all, the tilting feature included with Lifetime Aluminum double-hung windows allows easy cleaning and maintenance from inside the house. Replacing old windows with updated double-hung window styles allows homeowners to enjoy more fresh air, clear views, and better health benefits.
Maintenance Benefits
Windows can be tricky to maintain, especially as they become worn and outdated. Double-hung window replacements with Lifetime Aluminum provide the following maintenance benefits:
Convenient, easy access for cleaning with the tilt-in feature
Triple weather stripping seals provide advanced energy efficiency
Comfortable window frame insulation using top-grade polyurethane
Elegant design features, including concave, interior glazing bead
Secure, pick-resistant, recessed locks
High-performing aluminum extruded screen frame and reinforced corners
Lifetime Aluminum Services
We specialize in several types of windows at Lifetime Aluminum, including those that are double-hung. We also offer strong, attractive doors made of fiberglass, steel, and sliding glass. Customers throughout Morris County, New Jersey can also choose French doors, patio doors, and storm doors for installation.
Contact Us
Lifetime Aluminum has been serving customers in Morris County, New Jersey since 1956. Our second-generation, family-owned and operated business is dedicated to offering quality products that improve the value and use of your home. Our showroom and design center both allow customers to view and choose among the different products installed by Lifetime Aluminum, or homeowners can request a free, in-home estimate. If you are considering double-hung windows for your home, don't wait. Call us at 973-887-1900, or contact us online today.