Sunroom Installation
An enclosed porch or sunroom can be a perfect addition to your home that offers more space or just a relaxing environment that's protected from the elements. We offer a wide variety of sunrooms and porches to suit your unique preferences. Our enclosed spaces allow you to soak up the sun without being bothered by wind, rain, bugs or other annoyances. We ensure your sunroom is energy efficient and blends perfectly with your home's interior and exterior.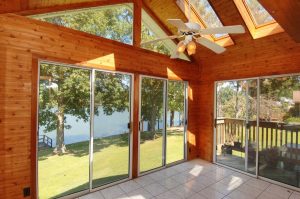 A great sunroom installation can transform a house into a multifunctional home. Whether you're looking to let in more natural light or bring the outdoors inside without the pesky addition of uninvited insect guests and allergens, Lifetime Aluminum has a sunroom solution that's just right for you.
Types Of Sunrooms
A sunroom is an enclosed space that extends your home's livable area without risking exposure to the elements. Unlike a patio or deck that's clearly out of doors, a sunroom blurs the line between indoor and outdoor living, offering you a place to enjoy the best of both worlds, rain or shine. What the space looks like is completely up to you, but we have a few ideas:
Embrace old-world style with a conservatory featuring stunning segmented roofing that allows the light to stream almost unimpeded.
For a simpler design, consider a gabled sunroom with a glass roof anchored by a central beam.
Go for a full-glass enclosure such as a solarium and enjoy a curved rooftop that looks elegant and stylish while providing optimal sun exposure for swimming, sunbathing or growing plants.
Your final design will reflect your personal aesthetics and fit your needs as well as your space for a final build that's functional, gorgeous and budget-friendly.
Using Your New Sunroom
The ways in which you can use your new sunroom are limited only by your imagination. Many people love the extra square footage for the simple reason that it offers an extra living room or den. Stock yours with comfortable couches or a recliner or two and enjoy reading a book or visiting with company while soaking in your own little slice of paradise. If you have kids, a sunroom could be the ideal place for a playroom; the little ones are contained but still have a chance to nurture their imagination surrounded by nature.
Add a hot tub or whirlpool to your sunroom for a spa-like experience, or put your affinity for botany to use by turning your solarium into a greenhouse. By controlling everything from sunlight to humidity, you can grow almost anything your heart desires, including exotic blooms that wouldn't normally thrive in your climate and fruits and vegetables that transform your kitchen into a portal for farm-to-table deliciousness.
Sunroom Installation
Installing your sunroom can be a complicated process, but Lifetime Aluminum's team of experts is here to streamline everything from ideation to design so you get exactly what you want in a reasonable timeframe. It all starts with a consultation; we'll discuss your vision, take measurements, make some recommendations and come up with a plan everybody loves.
Along the way, you'll learn all about the process, including how we prepare the site for construction, which building permits we'll need, how we choose and order materials and what the installation itself will entail. Considering blinds or shades? We'll lay out your options. Concerned about maintenance? We'll go over everything you'll need to do to keep your new sunroom in tip-top shape— and what changes you can make to create a simpler or grander final result.
Curious about how our process works in real life? Our customers' reviews and testimonials say it all.
Work With Lifetime Aluminum
The team at Lifetime Aluminum brings more than 50 years of experience to the table, creating jaw-dropping sunrooms for residents throughout East Hanover. We'd love to do the same for you. For answers to all your sunroom installation questions or to learn more about services that suit your budget, style and goals, contact us today.