Sliding Glass Door Installation in Morris County, New Jersey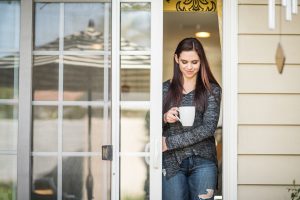 Lifetime Aluminum in East Hanover, New Jersey, sells superior sliding glass doors and has been providing reliable sliding glass door installation since 1956. Sliding doors are traditionally installed to access patios, decks or other inviting outdoor spaces. When you purchase your sliding patio door from Lifetime Aluminum, you know you're getting a product built to the highest quality standards. We'll help you choose a door that's beautiful, energy-efficient and made specifically to fit your home.
Sliding Glass Patio Doors
Lifetime Aluminum carries hinged patio doors from ProVia in fiberglass, smooth steel and textured steel construction, but when your space is limited, nothing beats our Sunrise™ sliding patio doors. These premium sliding doors utilize the finest craftmanship to outperform comparable products in beauty, comfort, efficiency and safety. Sunrise builds sliding glass doors to fit every home style with the energy efficiency, dependability and ease of operation you want and need.
Our Sunrise sliding patio doors are available in a wide selection of colors with optional wood grain interior. The door panels are specially designed to maximize your viewing area but are strong enough to withstand daily use. Other notable features of these doors include:
Three-point locking system for superior security
Exclusive full-length interlock for unhampered operation
Quad-seal weather stripping for unmatched protection from the elements
Polyurethane insulation for superior efficiency
Top-hung screen door for trouble-free operation
Sliding Glass Door Installation
Installing a sliding glass door takes a considerable amount of knowledge and expertise. As the go-to source for superior sliding glass door installation throughout Morris County, New Jersey, we've built a reputation for quality workmanship you can rely on. We review the door installation plan with you and then carefully install your new sliding door while treating your home like it was our own. With every installation, we aim to enhance the natural beauty of your yard and home with the perfect patio door.
Count On Lifetime Aluminum
We're known for our quality products, excellent value and reliable service. When you're ready to replace your existing patio door or install a new one, we offer in-home proposals to ensure you get the sliding glass door installation you want. Morris County, New Jersey, residents living in East Hanover, Florham Park, Chatham, Madison, Summit and the surrounding areas should contact us at 973-887-1900 for a free estimate today.